Our technology stack is the backbone of the value we create and deliver.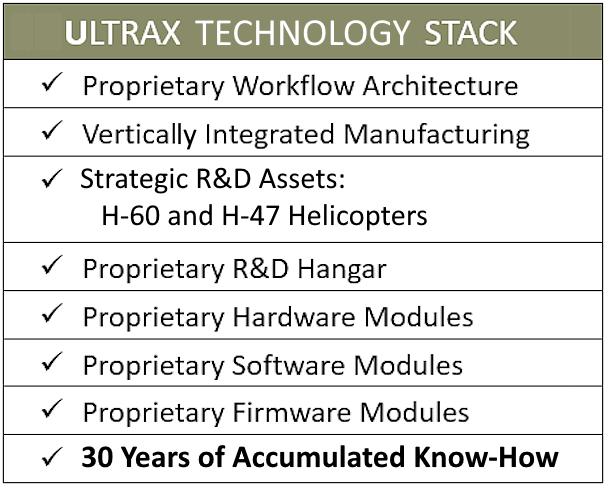 By developing reusable, scalable core-capability modules, ULTRAX rapidly develops new specific use-cases from the same existing common core to rapidly add new airframes to our capabilities portfolio.
YOUR AIRCRAFT HAS A STORY TO TELL     |     ARE YOU LISTENING?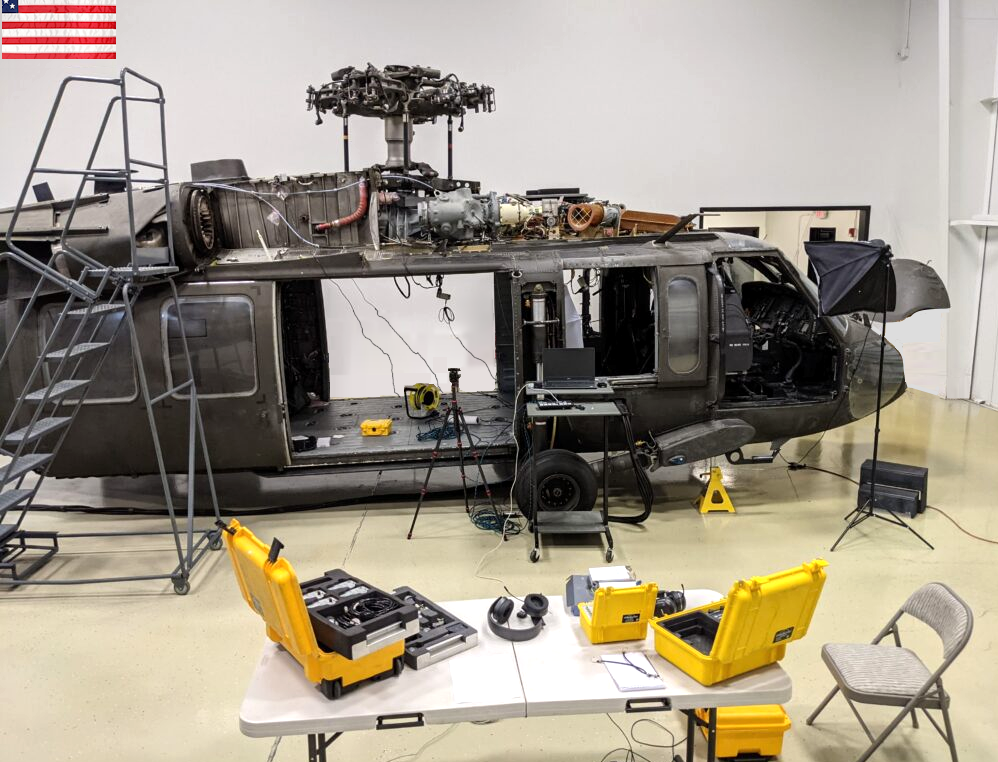 Condition-Based Maintenance Actions for the task at hand:
•   H-60 Variants
•   S-70 Black Hawk Variants
•   CH-47 Chinook Variant
•   AH-64 Variants
•   C-130 Variants
•   Other
•   Toubleshooting Evidence Trials
•   Separtate Engine from Airframe
•   Simulate Flight Control Inputs
•   Simulate Engine Indications to the Cockpit
•   System-Level Electrical Baseline
•   Flight Deck & Avionics Integration Suites
•   Lifecycle Sustainment & Life Extension Suites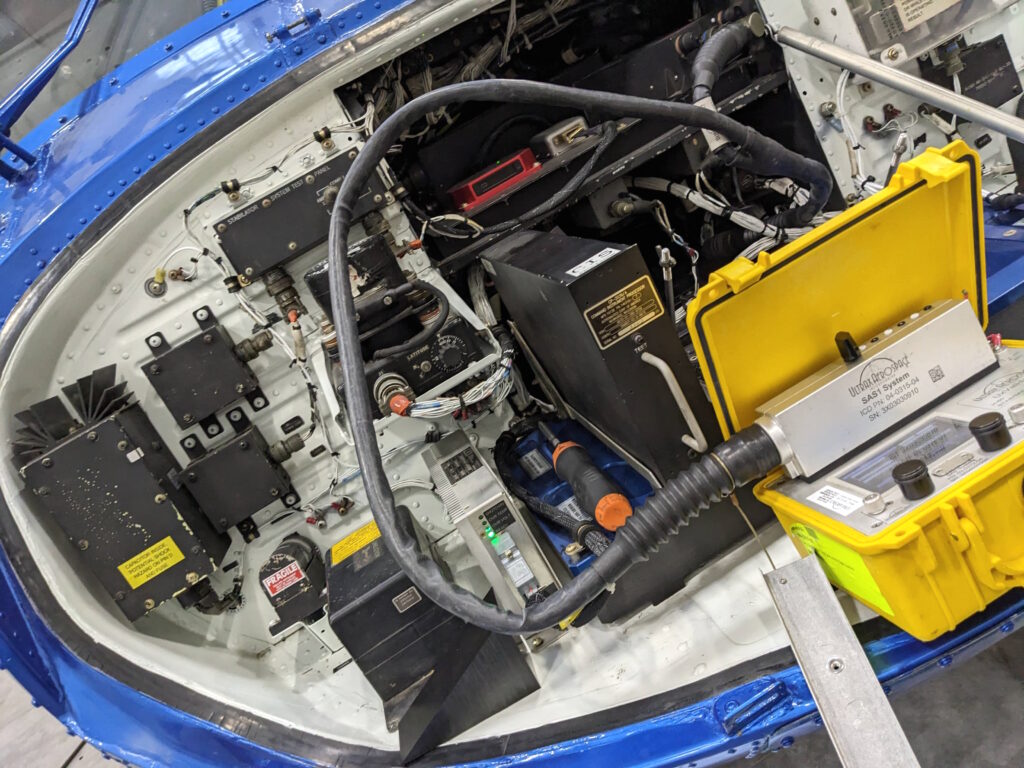 Configuration Tuning for Integrated Suites: 
ULTRAX tunes common-core modules to fit other airframes in roughly 105 days. This is a four step process:
1. Brief Technical Review: Table-top due diligence to assess the technical viability of reusing existing modules and establishing interconnect schema and limits.
2. Tuning Process: Tunes our firmware, software, hardware, and manufacturing modules to the specific use-case.
3. Verification: On-wing verification at roughly day 105.
4. Deployment: TBD.
Blah!Blah!
CHANGE IS CONSTANT   |   CBI
UxVALIDATOR PRODUCT FAMILY
United States CAGE Code 07PR7
National Stock Numbers (NSN) 2023
| MDS | MODEL | ULTRAX # | PRODUCT DESCRIPTION | NSN | CLASS |
| --- | --- | --- | --- | --- | --- |
| H-60 | F/R/S/T | 02-1103-01 | H-60 Stab/SAS Test Set (Navy)* | 4920-01-5296-5799 | N/A |
| H-60 | A/L/V | 05-0330-07 | H-60 Stab/SAS Test Set (Army) | 6625-01-529-3346 | 2 |
| | | | | | |
| Multi | All | 10-0210-02 | UxValidator Series II | 4920-01-603-9432 | 2 |
| | | | | | |
| H-60 | A/L | 06-125-65 | H-60A/L IDS Pod Set (Army) | 4920-01-592-6411 | 9 |
| H-60 | M | 08-0819-02 | H-60M EICAS/CEFS Pod Set | 4920-01-592-7332 | 2 |
| H-60 | A/L/V | 09-1009-03 | H-60A/L AFCC Pod Set | 4920-01-585-8568 | 9 |
| H-60 | All | 10-1009-56 | H-60A/L/M Stab Position/Limit Test Set | 5930-01-607-7256 | 9 |
| H-60 | G | 12-1002-01 | H-60 IDS Pod Set (USAF) | 4920-01-616-5489 | N/A |
| H-60 | All | 12-1012-01 | H-60/S-70 Blade Burn Pod Set | 4920-01-647-3874 | |
| H-60 | A/L/M/V | 17-0518-00 | T70x Engine Indications Test Set (Army) | 4920-01-695-0225 | |
| H-60 | G/W | 18-1110-00 | UxValidator, Series II (USAF) | 4920-01-708-1967 | |
| H-60 | W | 18-1130-00 | T70x, Engine indications Test Set (USAF) | 4920-01-708-6066 | |
| H-60 | G/W | 18-1140-00 | Blade Burn Pod Set (USAF) | 4920-01-708-1968 | |
| H-60 | G/W | 18-1150-00 | Stab Position Limit Switch Test Set (USAF) | 4920-01-708-1966 | |
| S-70 | i/M | 18-2110-00 | UxValidator, Series II (S70i/M) | Commercial | N/A |
| S-70 | i/M | 18-2120-00 | T70x, Engine indications Test Set (S70i/M) | Commercial | N/A |
| | | | | | |
| H-47 | D/F | 09-1009-02 | H-47D/F Engine Torquemeter Test Set | 4920-01-602-5597 | 9 |
| H-47 | D/F | 11-0614-00 | H-47D/F FADEC Continuity Test Set | 4920-01-664-5523 | 9 |
*  Includes UxValidator Series I
SCATS PRODUCT FAMILY
United States CAGE Code 07PR7
| | | | | |
| --- | --- | --- | --- | --- |
| H-60 | 00-0919-19 | 2 | SAS Amplifier | 70901-02908-103,70901-02908-104,70901-21908-103 |
| H-60 | 00-0919-20 | 4 | Stabilator Amplifier | 70902-02001-047,70902-02001-048,70902-85200-043,70902-22001-042,70902-22001-044,70902-22001-046 |
| H-60 | 00-0919-21 | 2 | Stab Control Panel | 70902-01070-048 |
| H-60 | 00-0919-24 | 2 | CIS Mode Select | 70902-01085-045 |
| H-60 | 01-1108-10 | 2 | BDI Control Panel | 70902-01099-045 |
| H-60 | 01-1108-11 | 3 | BDI Distributor | 70550-02127-103,70550-02127-104 |
| H-60 | 01-1108-12 | 3 | VSI/HSI Mode Select | 70450-01901-102,70450-01901-103,70450-01901-104,70450-01901-105,70450-01901-106,70450-01901-107,70450-01901-108,70450-01901-109,70450-01901-110,70450-01901-111,70450-01901-112,70450-01901-113,70450-01901-114 |
| OH58 | 01-1220-01 | 4 | Audio Distribution Unit (ADU) | 406-077-801-105,406-077-801-107 |
| OH6 | 02-1022-12 | 1 | Hellfire | LWH-13009716 |
| OH6 | 02-1022-13 | 1 | A2D Avionics Unit | 1000484 |
| OH58 | 02-1218-01 | 1 | Comm/Nav 1 Relay Panel | L1184 |
| OH58 | 02-1218-02 | 1 | Comm/Nav 2 Relay Panel | L1183 |
| H-60 | 03-0324-01 | 3 | BDI Controller | 70550-02126-106,70550-02126-108,70550-02126-110 |
| H-60 | 03-0820-02 | 2 | SAS2/FPS (AFCS) Computer | 70901-02903-104 |
| H-60 | 03-1028-02 | 4 | BDI Fault Monitor | 70902-01110-044 |
| H-60 | 03-1028-03 | 3 | RH/LH Relay Panel | 70550-02102-051,70550-02102-056,70550-02105-051,70550-02105-054,70550-02105-057 |
| OH6 | 04-0324-01 | 2 | Rocket Interface Unit (RIU) | 29489-501 |
| AH64 | 04-0603-02 | 2 | Pilot Exterior/Interior Light Panel | 7-311B12002-5 |
| H-60 | 04-0728-01 | 2 | Misc Switch Panel | 70450-01090-044,70450-01090-049 |
| H-60 | 04-0730-03 | 3 | Fuel Boost Pump Control Panel | 70902-01115-042 |
| H-60 | 04-0731-01 | 2 | Stores Jettison Control Panel | 70902-4140-042 |
| H-60 | 05-0909-01 | 2 | Chaff & Flare Dispenser | 70450-01706-101 |
| H-60 | 05-0919-05 | 3 | Caution Advisory Panel | 70550-01107-109,70550-01107-120 |
| H-60 | 05-1109-63 | 2 | AFCC Computer | 825050-1-001 |
| H-60 | 08-0704-01 | 3 | CP-2036 | 146310-7 |
| H-60 | 09-1031-01 | 3 | Signal Data Converter (SDC) | 100-601562-000,100-601572-000,245-476850-000 |
| H-60 | 02-0204-01 | 1 | Caution Advisory Panel | 70550-21900-112,70550-21900-116 |
| H-60 | 02-0411-06 | 1 | Misc Relay Panel | 70550-82005-043,70550-82005-047 |
| H-60 | 02-0617-03 | 1 | Misc Relay Panel | 70550-82005-047 |
| H-60 | 07-0604-60 | 1 | Stab Position Sensor & Limit Switches | 1560-01-422-2283 |
| H-60 | 03-0221-03 | 1 | AFCS Control Panel | 70902-21000-044,70902-21000-053,70902-21000-054 |